The picture says more than a thousand words and according to Orlin Grabbe, "cryptology represents the future of privacy and by implication it also represents the future of money and the future of banking and finance."
Just after several meetings in San Salvador I missed my lunch break, looking for something quick I stopped by McDonald's. On my face I found this image, where since last year they have been accepting payment for Bitcoin transactions.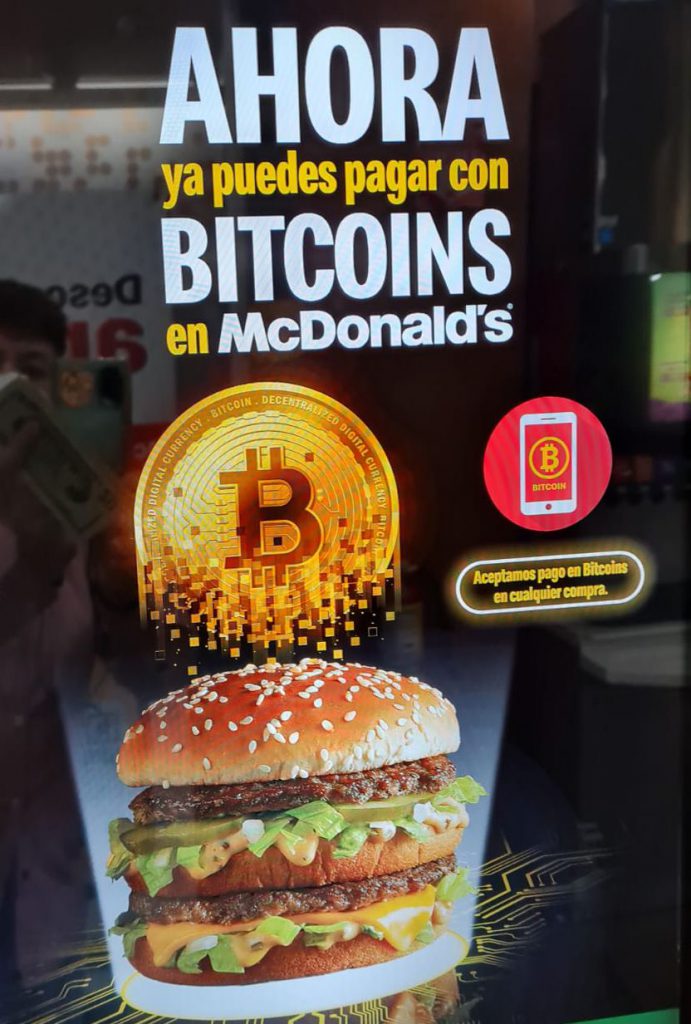 At the beginning of 2022 GSB El Salvador was opened, a country that allows us to continue to develop, to face new challenges and to familiarize ourselves with the use of cryptocurrencies, since their use in the region is normal.
Since last year, at GSB, we have been working with Cryptocurrencies for service payments. We use the digital exchange platforms, BITSO and BINANCE, which have given us a lot of confidence due to their growth and stability in the market. There are many horror stories about scams involving the disappearance of these platforms and the theft of their cryptocurrencies. Great care must be taken.
The challenge is very clear for all of us and for GSB, this 2022 we must prepare and study to be able to:
Receive payments for services
Make payments to suppliers
Payroll dispersion
Investments
Training
We will start an internal effort so that all of us who are part of GSB know more about it and its use becomes more and more common in the team. And I leave you with this definition that, as a Systems Engineer, I loved:
"In essence, it's a smart currency, designed by very innovative engineers. It eliminates the need for banks, eliminates credit card fees, currency exchange fees, money transfer fees and reduces the need for lawyers in transitions … All good things." – Peter Diamandis.
Eng. Ben Orta
Managing Director GSB