In this issue of Business Leadership 2021 magazine you can find more details about GSB's work around the world, its services and much more:
In Mexico, Global Services Business has positioned itself as a company specialized in efficiently solving the technological and human talent needs of the institutions that require it. Its history dates back to 2008 in Monterrey, the region where the foundations of its organization were forged.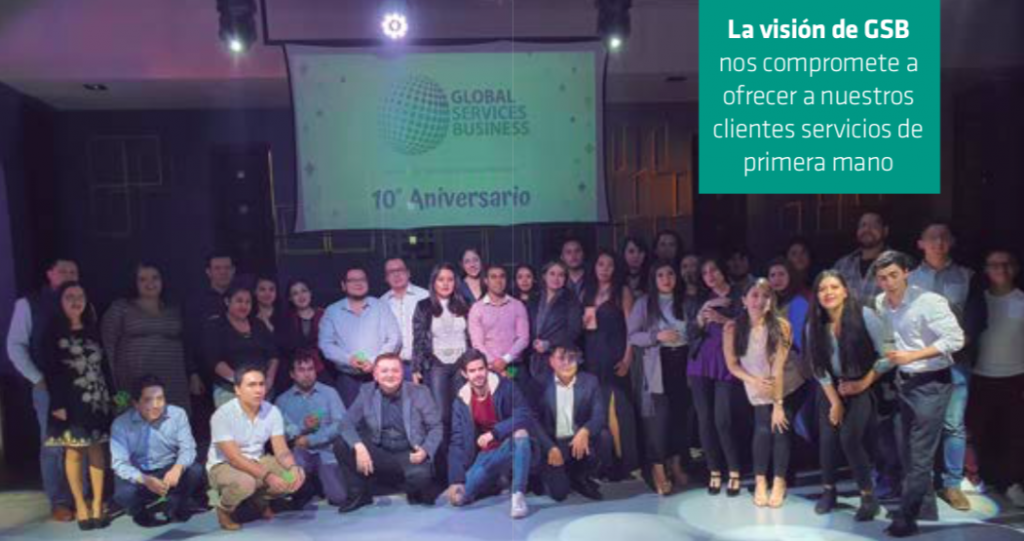 Thus began the generation of strategic alliances, backed by a robust experience and a solid organizational culture. Additionally, they focused on the formation of a complete team of highly trained professionals, but above all characterized by the commitment to deliver technological solutions tailored to each of its customers.
A year after its foundation, they managed to establish themselves in the capital of the country and in 2013 they decided to expand their borders by establishing offices in Brazil, and then extend their coverage in Colombia. This growth trend has continued, and with Mexico being the "Headquarter", it boosted coverage throughout the Americas with presence in countries such as the United States, Canada, Brazil, Colombia, Argentina, Aruba, Panama, Chile, Venezuela, Ecuador, Peru, Honduras, Costa Rica, Panama and Paraguay. Last year we went further by setting foot in Asia with the opening of India, and in 2021 we will extend our presence to Europe with the opening of Spain.
SERVICES
IT and Telecom Support Services:
Team specialized in delivering an efficient service in technology ranging from computers, laptops, printers, fixed and mobile telephony (Android/iPhone), routers, network infrastructure, servers, among others, providing on-site, remote, help desk, software and hardware support.
Headhunting/Manpower/Payroll:
We identify talent to fill available positions in your organization. We recruit and select the specialized professionals you need, helping your business grow. The entire process of hiring professionals is handled by GSB, reducing your operating costs and allowing your business to grow.
Technological Solutions:
Through the development of Software in technologies such as .Net, Java, Mobile (IOS/Android), SAP, HTML, PHP, Databases, among others, we optimize and automate processes through the use of technology and best practices under traditional (PMI®) and agile (Scrum®) project management frameworks.
COURSES
As part of Talent Development, GSB offers a catalog of courses for the training of its work team, both technological and human, as well as best practices in processes. Among others:
They have the Scrum Master course, a space for guiding, facilitating and teaching Scrum practices in all project stakeholders of their organization, eliminating impediments and ensuring the achievement of objectives.
They offer the Microsoft Project course, designed to learn how to use this eponymous tool, ideal for planning and executing tasks in a project, as well as being very useful in terms of action tracking and reporting.
They also have Leadership, a space for capacity building based on the situational model, technical and human tools of the Leadership Competency Development Model.
GROWTH AND COMMUNICATION
GSB currently has a direct team of 160 professionals who, together with the support of business partners, have created a network of more than 3,000 collaborators that allows them to cover the vast geography of the Americas.
Likewise, their communication is in three languages, Spanish, English and Portuguese, allowing them, together with tools such as Microsoft Teams, WhatsApp, Telegram, Signal, IP telephony, email, among others, to be fully communicated.
ICG RETAIL PRODUCTS
Product implementation and software development is also one of our specialties. Global Services BusinessIt is worth mentioning that the Spanish software ICG has more than 30 years of development and experience that has allowed it to complement the objectives and solve the needs of sectors such as hotels, business management, restaurants, retail and infrastructure.
For each of them it has flexible, scalable and adaptable solutions to the needs of your business, with the possibility of having personalized advice for the development of a customized solution that suits your needs.
With all this, Global Services Business (GSB Solutions) seeks to continue improving its positioning nationally and internationally, always offering the best technology solutions, outsourcing, training and business leadership that your organization needs, always seeking to strengthen Mexico to the world.